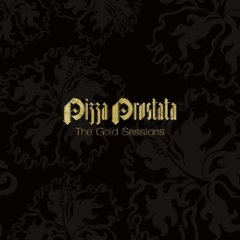 «The Gold Sessions» are live!
Available as MP3 downloads through all the major online retailers:
CD-Baby (the best!)
iTunes
Amazon

Want a proper CD of «The Gold Sessions»?
We worked hard to make it a pretty product!
Contact steven@pizzaprostata.com for a CD.
It's a beautiful thing to own and give away for X-mas to friends and enemies alike.

The pricing is as follows:
«The Gold Sessions» limited edition with a hand set piece of gold-leaf inside (only very few are still available) for CHF 25.– a piece (made by fairly paid grown up's in switzerland – ourselves)

«The Gold Sessions» normal edition CD for CHF 20.– a piece
«The Gold Sessions» and «The Whitehorse Sessions» together for CHF 15.– (best deal ever!)

In switzerland these prices include shipping. Depending on where in the world you live, we'll have to figure out what to charge. Just ask – prices vary with the phase of the moon.

The Goldsessions will be released on December 7. 2013 at the anyone can play guitar event for the RaBe Clubtour in the Brasserie Lorraine! Join us, it'll be fun!


The Gold Sessions are currently being mastered. Picasso, Dali and Klee for your ears.
Tracklist:
1. Buenas Tardes Innuendo
2. Surfs Up
3. Waschmaschine
4. Paparazzi
5. Easy Rider
6. Coconut
7. Drown In The Water
8. Babushka
9. Cowboy
10. Ready
11. Arigato
12. Porno Hustle
13. Ozopft Is'
14. Juanita
15. Buenas Tardes Revolution Remix (by Patrik Zeller)
16. Waschmaschine Buntwäsche Remix (by Patrik Zeller)
Pizza Prostata has entered a song for the Eurovision Song Contest.
Watch the Video for Waschmaschine and vote here from mid October.
MERRY X-MAS! Buenas Tardes Innuendo Remix by Play Patrik is available as a free download here!
The Whitehorse Sessions have been to Uganda – check the image gallery for proof!
Picture gallery now online! Check it out!
Pizza Prostata now has a MySpace profile. Check it out!
Download the Whitehorse Sessions at the iTunes Music Store
Pizza Prostata Live at F & B in Bern on the 17. March. 2007
The Whitehorse Sessions were on the Ojos del Salado – the highest volcano in the world (6893m)! Pic soon.
The Whitehorse Sessions are now available online at CD-Baby
Pizza Prostata will turn 12 years old in 2007. Prepare for puberty!

Pizza Prostata Live on the 20. January 2006 at the Gaskessel in Bern for the Emergenza Festival. Vote for us!

6. Aug. 2005 Pizza Prostata CD on the summit of Peak Lenin in Kyrgystan at 7134 m (23'400 ft) above sea.
Pizza Prostata Live on the 2. July 2005 at the Dead End in Bern.

Pizza Prostata Live on the 26. February at Villa Kunterbunt in Münchenbuchsee!
2005 is over on the 7. January: CD release of the Whitehorse Sessions.
We now have a guestbook for you! Write yourself a monument!
You want a Poster? Posters available now! Contact us by e-mail