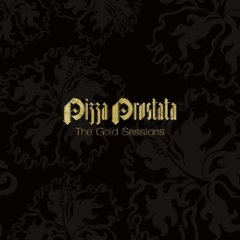 Tracklist:
1. Buenas Tardes Innuendo
2. Surfs Up
3. Waschmaschine
4. Paparazzi
5. Easy Rider
6. Coconut
7. Drown In The Water
8. Babushka
9. Cowboy
10. Ready
11. Arigato
12. Porno Hustle
13. Ozopft Is'
14. Juanita
15. Buenas Tardes Revolution Remix (by Patrik Zeller)
16. Waschmaschine Buntwäsche Remix (by Patrik Zeller)

Available as MP3 downloads through all the major online retailers:
CD-Baby (the best!)
iTunes
Amazon

Want a proper CD of «The Gold Sessions»?
We worked hard to make it a pretty product!
Contact steven@pizzaprostata.com for a CD.
It's a beautiful thing to own and give away for X-mas to friends and enemies alike.

The pricing is as follows:
«The Gold Sessions» limited edition with a hand set piece of gold-leaf inside (only very few are still available) for CHF 25.– a piece (made by fairly paid grown up's in switzerland – ourselves)

«The Gold Sessions» normal edition CD for CHF 20.– a piece
«The Gold Sessions» and «The Whitehorse Sessions» together for CHF 15.– (best deal ever!)

In switzerland these prices include shipping. Depending on where in the world you live, we'll have to figure out what to charge. Just ask – prices vary with the phase of the moon.